Planned Giving
The John Mason Peck Society
"You are the light of the world. A city built on a hill cannot be hid." ~ Matthew 5:14
John Mason Peck
John Mason Peck was a nineteenth century pioneer American Baptist missionary who sought to use his energy and enthusiasm to convey the Good News of Christ by every means possible:
Education
Discipleship Training
Evangelism
New Church Planting
Healing Ministries
Justice Activities
The John Mason Peck Society was established in 1996 as a way to acknowledge all those - past and present - who have remembered American Baptist ministry and mission in their charitable estate plans. Membership now numbers more than 650. However, many more people could become members of the Society since they have named their church or an American Baptist organization in their wills or through other planned gifts.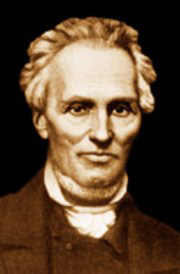 Membership
Membership in the Society is open to people like you who want to ensure the rich legacy of American Baptist endeavors—from those of your own congregation to activities across the nation and around the world. The Foundation offers a variety of planned giving opportunities that will assist you. These can be tailored to meet your specific estate planning needs and include:
Giving to an American Baptist endeavor through your will or trust
Making a gift that, in return, provides income for life to you (or someone you designate)
Making a gift that may save estate taxes while passing assets to your children
Naming an American Baptist ministry as the beneficiary of a retirement plan, life insurance policy, certificates of deposit, mutual funds, and savings accounts