Planned Giving
A Mitten When You Need It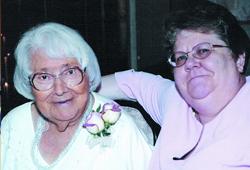 During autumn in Michigan, you look for cold weather clothes like mittens because you know you will need them soon. There is a type of CGA like that. It is called a
Deferred
Charitable Gift Annuity. The story of Carole Flaton, who is also a resident of the Detroit suburbs, illustrates the future value of this CGA.
Carole learned of CGAs at a statewide retreat conducted by American Baptist Women's Ministries of Michigan. There she met her region's Foundation representative, who later made a presentation at Carole's church. In 2002, Carole chose to fund a Deferred CGA since, being fully employed, she would not need the income until her retirement years. The source of those funds came from her grade school music teacher, Eva Shewfelt.
Carole first met Eva when Carole was about eight years old. She describes this relationship by saying, "When I was growing up, I visited Eva at her home. I would go and have lunch, and we'd work on crafts. I even helped her prepare bulletin boards for her classroom. Over the years she became like a second mother to me. She and her husband never had children of their own, so they kind of adopted me."
This former music teacher was part of Carole's life for more than 50 years; their personal relationship had a spiritual dimension as well. Carole explains, "When she was 21, I got my uniform as a dental assistant and proudly showed Eva and her husband how I looked. That day Mr. Shewfelt invited me to go to church with them. My family had no church contact, so I learned of Christ through the Shewfelt's invitation."
When Mr. Shewfelt died in 1987, Eva visited Carole, who was considering the purchase of a condominium. Eva offered to add to Carol's down payment a sum of her own. Carole told her former teacher that she wanted to pay it back someday. Eva said, "You don't need to. Just make sure when something happens to you, that it goes to the church."
It was that same amount that Carole used to fund her deferred CGA. The annuity will eventually go to International Ministries and American Baptist Women's Ministries, endeavors that Carole knows well since she is the mission and service coordinator for American Baptist Women's Ministries at three levels -- her local church, the metropolitan Detroit area, and her region, the American Baptist Churches of Michigan. Perhaps you, like Carole, are not in need of CGA income yet. But if you fund a Deferred CGA now, it will grow and produce a steady return to you when you do need it. Later it will support the American Baptist mission efforts you name.